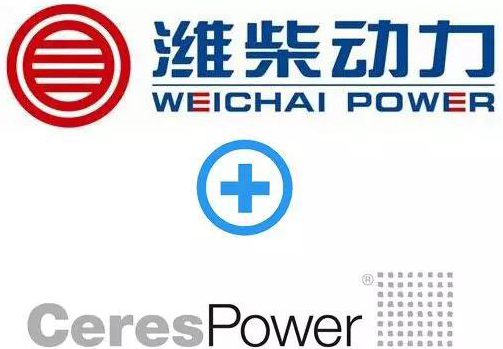 Ceres Power, the world's leading developer of low-cost solid oxide fuel cell (SOFC) technology SteelCell®, announced on June 26 that Weichai Power ("Weichai") announced its equity investment in Ceres on May 16, 2018. The plan was approved by the relevant Chinese authorities.
● Following the announcement by Ceres Power on May 16, the relevant Chinese authorities have approved Weichai's equity investment in Ceres.
● Approved an initial investment of £17 million to obtain a 10% stake in ceres, priced at 15.08 p/share, a premium of 18% over the initial announcement date.
● The approval also includes an additional potential equity investment of approximately £23.2 million, subject to the signing of a further commercial agreement by November 30, 2018.
● This approval marks an important milestone for Ceres power before officially starting cooperation with Weichai, one of China's leading automotive and equipment manufacturing companies.
Ceres power will now seek shareholder approval for the relevant authorities to issue common shares arising from these investments and will soon send a notice to the General Assembly.
The second potential investment of £23.2 million will be made through the warrants at an exercise price of 16.45p/share, with a market price premium of 29% at the time of the initial announcement. This warrant will allow Weichai to hold a 20% stake in Ceres and will automatically exercise it when signing further commercial agreements anticipated in late 2018, subject to certain conditions.
In addition to investment, Ceres and Weichai also plan to develop a broader strategic partnership to develop and launch the SOFC fuel cell range extender system for China's fast-growing electric bus market. Weichai has an extensive customer network in China with an annual sales volume of approximately 30,000 units.
The current strategic cooperation is expected to begin in 2018, first transferring fuel cell system technology to Weichai to facilitate the launch and demonstration of CNG fueled SteelCell® SOFC hybrid buses in China in 2019. The parties then expected further cooperation on the supply of buses and SteelCell® SOFC stacks.
Weichai is listed in Hong Kong and Shenzhen with a market capitalization of US$10 billion and has a proven track record of strategic investments by companies around the world, including Societe Generale Haddouin, US International Power Solutions and KION Group AG ( MDAX is listed).
China's low-emission public transportation market is a major business opportunity for Ceres technology. The Chinese government is stimulating the industry through subsidies and zero-emissions zones designed to reduce air pollution and carbon emissions, while increasing public health and reducing operating costs.
In addition to these advantages and the increased range of electric buses, the Ceres Power range extender has the advantage of being able to use widely used fuels such as CNG and is not dependent on the introduction of hydrogen infrastructure.
CEO Fair Caldwell said: "We are very pleased that Weichai's investment in Ceres can be approved by the Chinese government, through its strategic partnership with Weichai, with its large scale, leading market position and manufacturing. Expertise, which may bring considerable benefits to Ceres and accelerate our development. Although we focus on providing fuel cell range extenders in electric buses, this partnership provides us with valuable opportunities to enter the Chinese market. This will provide important growth capital for our business expansion.
"We look forward to working with Weichai and other existing partners to develop our world-leading technology and extend its commercial applications to multiple markets and regions."